Surface-Water Information and Data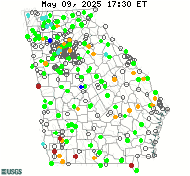 The U.S. Geological Survey operates and maintains over 7,300 streamgages nationwide, over 300 here in Georgia, which provide long-term, accurate, and unbiased information that meets the needs of many diverse users.
The map to the left shows current streamflow conditions in Georgia; click the map to go to a full size version from USGS WaterWatch. The links below allow you to find information and data about Georgia's surface-water resources.


–Opens the link in a new window.
USGS National resources
Water-education resources
Need More Information?
---